We have often encountered a situation in which we tend to leave our car keys inside and we lock our doors. Several people panic in such a situation, as they fear they might not recover the keys anytime soon, but now, this tension is completely minimized with our car lockout services.
In a car lockout situation, Tow Truck Near Me comes to your rescue. Wherever you may be in the city we make sure we provide the best car lock out service.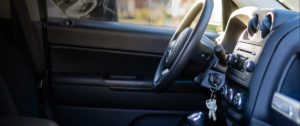 As soon as you encounter that you have locked yourself up in a car don't panic and remain calm. Call us up at 647-212-2121 and one of our experts will walk you through the process of getting back into your vehicle.
Our Work Process
We note down your location, your car number and we dispatch one of our crew members for immediate service. After arriving on-site, we make sure no one is hurt and we try to get your car unlocked as quickly as possible. During the unlocking process, we make sure that no damage is caused to the car as well. If the car is deadlocked and the keys are locked inside, there is no other way except that the trunk is drilled and new locks are installed.
24/7 Availability
We take pride in providing 24/7 assistance which means whenever you call we will pick up. We have dispatchers and crew members waiting to assist you in all of your tow truck service needs.
Pricing
The charges are added as per the location of your car from our service station. We reach you within a negligible amount of time and make sure that you are out of your car and both you and your car are safe with no damages.
Safety
The car lockout service is quite affordable and efficient, we have ample years of experience and deliver the best service possible. During the unlocking process, the safety of the car is maintained. They ensure that no damage is caused to your vehicle and it remains as it was before.
The Services We Provide
We provide assistance at the time you are stuck up in your car. May It be an automatic car or a manual one, both of them can be handled by the professionals at our service station. All you need to do is contact us as soon as possible and we provide you with the most inexpensive service that helps you get unlocked in no time.
Other Lockout Issues
We provide services even in all kinds of different lockout situations, if the key has malfunctioned or if the key has been jammed in the ignition or if there is a broken key in the ignition, or the ignition itself has been malfunctioning. We provide services in all such conditions in the most effective manner.